Welcome to NJ Woods & Water
Come be a part of NJ Woods & Water by signing in or creating an account today!
Enter contests and win prizes
Start new topics, ask, and answer questions
Subscribe to topics and forums you're interested in
Get your own profile page, blog, and photo/video galleries
Participate in live chat
Send personal messages to other members.
Share content with your social media such as Facebook, Twitter, and Google+
If you are experiencing trouble creating an account, please
click here to submit a support ticket and we will help resolve any issues you may be having!
20th Annual Whittingham Trad Shoot (4.26-28, 2013)
Started by
Bacs
,
01/28/13 06:22 AM
You cannot start a new topic

Please log in to reply
#1
OFFLINE
Posted 01/28/13 - 06:22 AM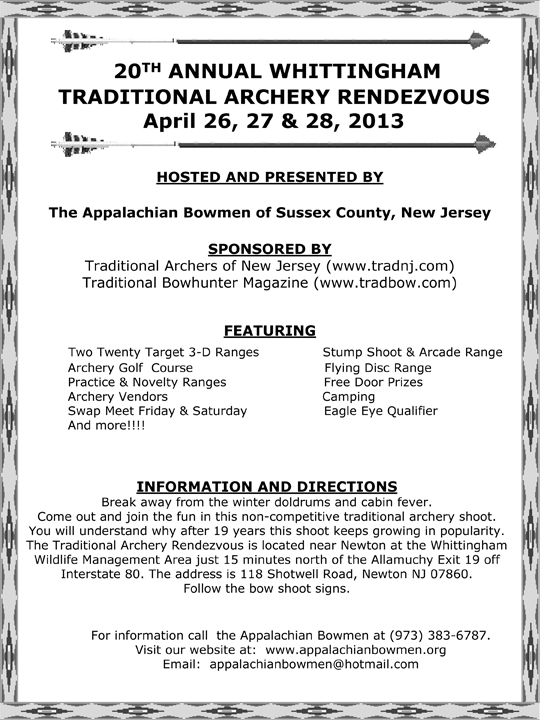 United Bowhunters of NJ (LM)
Pope & Young Club (Life Assoc)
Professional Bowhunters Society - AM
USSA-Bowhunters Rights Coalition
NJ Beach Buggie Assoc.
North American Hunting Club (LM)
NRA (LM)
NJSFSC

(\ (\
(=' x')----<<<
(,('')('')
Dead Rabbit
---
#2
OFFLINE
Posted 01/29/13 - 11:13 AM
Added this one to the NJFNG Calendar!

---
#3
OFFLINE
Posted 02/10/13 - 07:14 AM
Come to the shoot its a great one.
If you are camping you need to bring your own fire ring
Someone stole ours.

D-D... Nothing like a warm barrel.
Democracy is two wolves and a lamb voting on what to have for lunch. Liberty is a well-armed lamb contesting the vote.

---
#4
OFFLINE
Posted 03/16/13 - 05:27 PM
Good event, can't wait. Working on a sinew backed maple selfbow and hoping to have it ready by then.
Good people and nice courses. The flying disc shooting is always a blast.

---
---
0 user(s) are reading this topic
0 members, 0 guests, 0 anonymous users