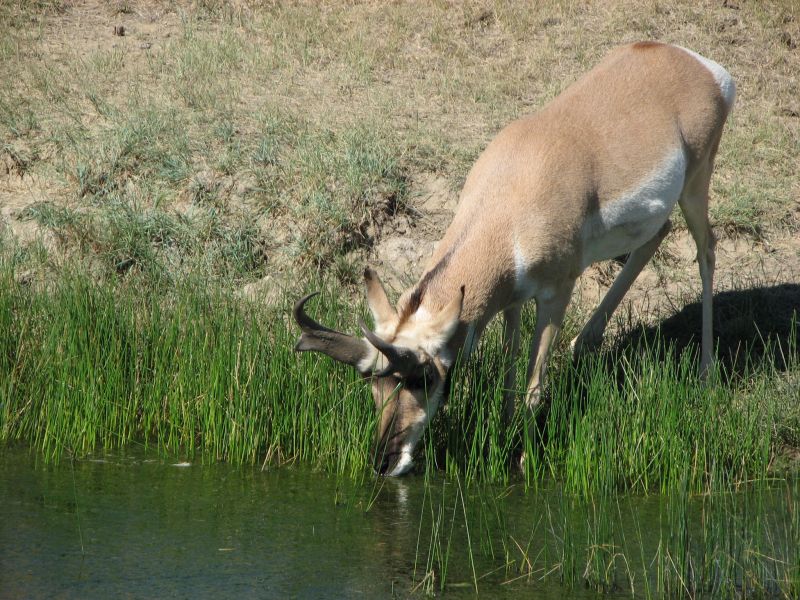 As the sun began its slow climb into the morning sky, it found me sitting in an antelope blind in the "Cowboy" state. This is the second time I've been to Wyoming hunting antelope at the Werner Ranch, the first time was back in 2009.
Just twenty-four hours earlier, my Father and I had landed at Denver International Airport where we were soon joined by friends Sam Yarosh III and John Hoinowski. We quickly and unceremoniously piled our gear into the rented Ford Expedition and started our three and a half hour journey towards Douglas and a date with August Antelopes with JJ and Connie Werner at the famed Werner Ranch.
We arrived at the ranch right about 3pm after making a few pit-stops along the way. After speaking briefly with JJ we headed inside to see Connie and start unpacking our gear. After getting settled in, we all headed out back to shoot the bows and make sure that they were still on; and they were.
After a quick dinner of burgers and baked beans, JJ and Mark, Mark is JJ and Connie's Brother-In-Law, took us all out for a tour of the ranch and to see some of the blinds that we would be hunting. Afterwards when we got back to the ranch house we drew cards to see who would hunt what blind.
I drew the "Hall Windmill" blind; and that's we're the sun found me that first morning. The weather report called for Hot with a chance of Hotter; and it was sure on the mark. Hot is good for waterhole antelope hunting. By 8am I had my first buck into water, he was a good one and I watched as he calmly drank then turned broadside and slowly meandered off. I took lots of pictures of him and every other antelope doe, fawn, and buck that came into the waterhole that day; even one buck that my brain said "you should have shot him" as he walked away. All-in-all that day the temp hit 98 and I had better than 100 antelope in to water.
When Mark came and picked me up at 8pm he told me that Sam had scored on a nice buck earlier that morning. When we got back to the ranch house we were met by an elated Sam and we all shared in the joy of his success and enjoyed looking at his harvest pictures. After dinner I transferred the pictures I'd taken to the iPad to get a better look at them. I had pictures of some good bucks, and one that I told myself if he came back into the water tomorrow; he wouldn't be leaving. He had good horn length, decent mass and good cutters.
The next morning I was back at the windmill blind waiting for the parade of antelope to begin. The morning was overcast and much cooler, and the action was slower than the day before. Slowly but surely, as the day started to heat up, the antelope began to get with the program and come into water. The first antelope in to water that morning was a decent buck that came in right about 8:30am. I hadn't seen him the day before, I could tell because he'd been shot and had dried blood all over his coat. I later found out when I showed JJ the picture that the buck had been shot on the first day the week before and that after two days of searching they weren't able to find him. Well, all could see that he was alive and well, and he was spotted the next day at another waterhole.
As the morning warmed up I had a steady stream of does, fawns, and smaller bucks into water and I have loads of pictures of them. I was sitting back enjoying the day when at 10:30am a buck came trotting over the hill and my hand instinctively reached for the bow. It was the buck from the day before; the one that I said if he came into water today he wouldn't be leaving.
He trotted right down to the water without hesitation. As the buck was drinking, I was waiting; waiting for a broadside shot. Finally the buck finished drinking and started to back out, I drew, settled the 20 yard pin on him holding a little low, and released as he turned broadside. As I released the buck dropped and spun to the left, and I watched in horror as my arrow buried deep into his rear quarter.
When the buck spun he wound up quartering away and 24 inches of my 28 inch Axis shaft buried into him. He bounded off about 15 yards and stopped. By this time I could see the blood pumping down his leg, he wobbled, bounded another 15 yards, hunched down, and then flopped over. The 3 bladed Rage had done its job.
The day before; I had found the secret spot in the blind when my phone could get a signal and I texted the ranch house cell phone, Sam, and John that I had a buck down. Sam and Mark were at the butchers in Douglas and Sam texted back that Mark had called JJ, and that JJ was on his way. Ten minutes later JJ rolled up, we packed up my gear, and JJ took some pictures of me and the buck. Back at the ranch house JJ and Mark green scored my buck at 65 inches. Just two inches shy of making Pope & Young, but a great buck just the same!
As the week progressed both my Father and John scored on good bucks, both using traditional Bowhunting gear, and each having their own adventures in and out of the blind. All-in-all, our group went four for four on antelope bucks, and I can't say enough about the hospitality of the Werner's; we ate like kings and were treated like family.
If you want to hunt antelope and experience the hospitality at the famed Werner Ranch; call them soon because they book up quick!
Me & my Buck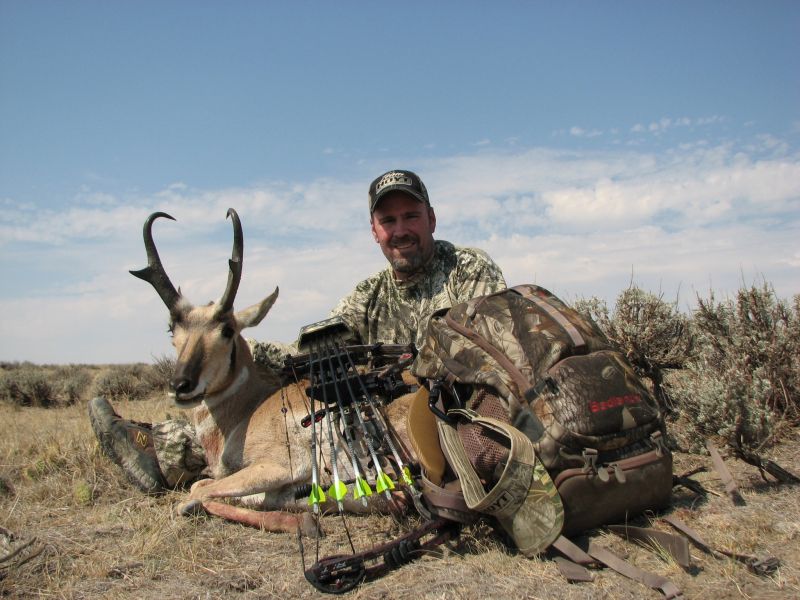 Sam & his Speedster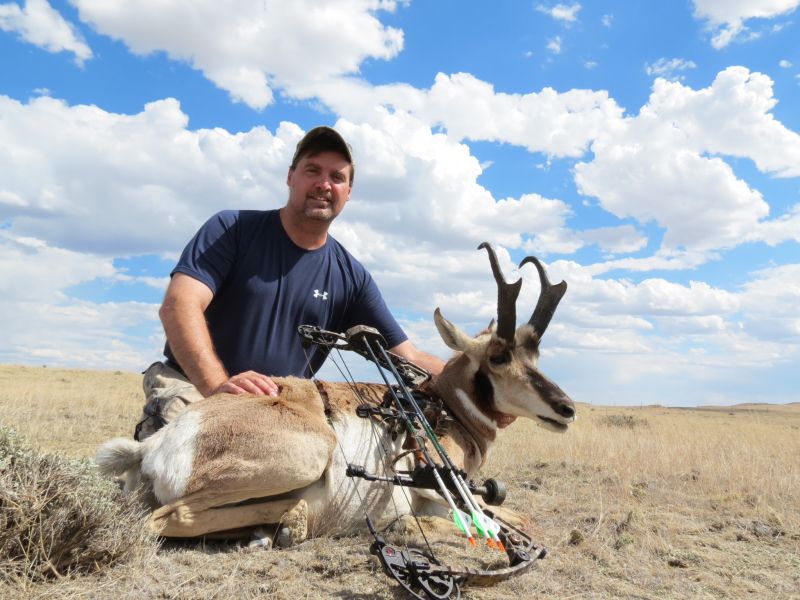 My Pop and his Buck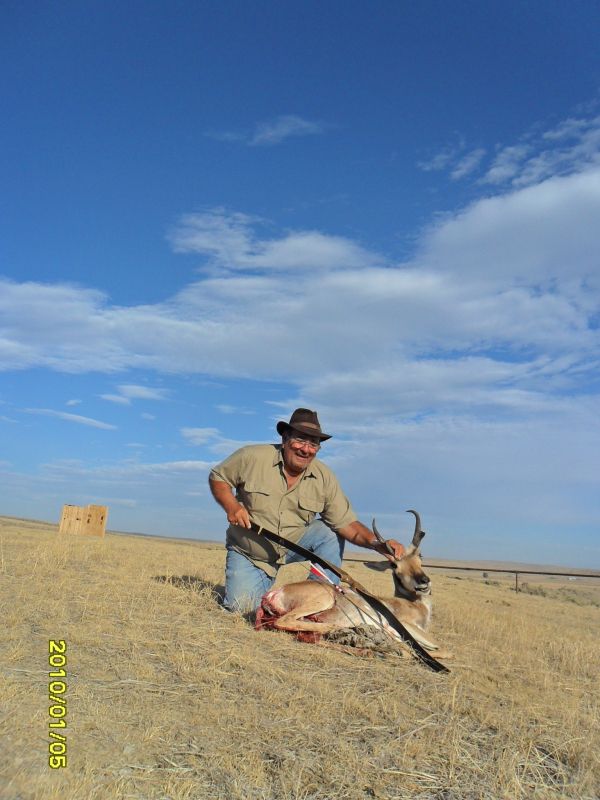 John and his Goat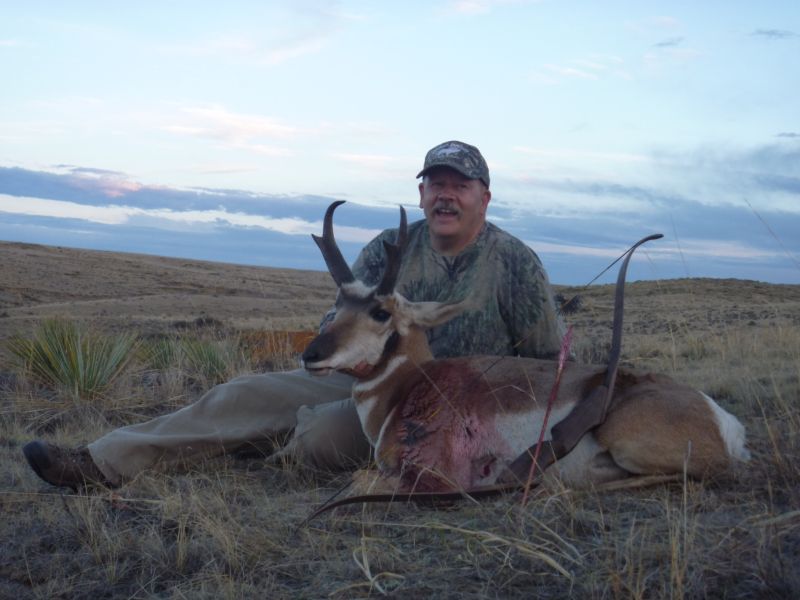 Some various pics...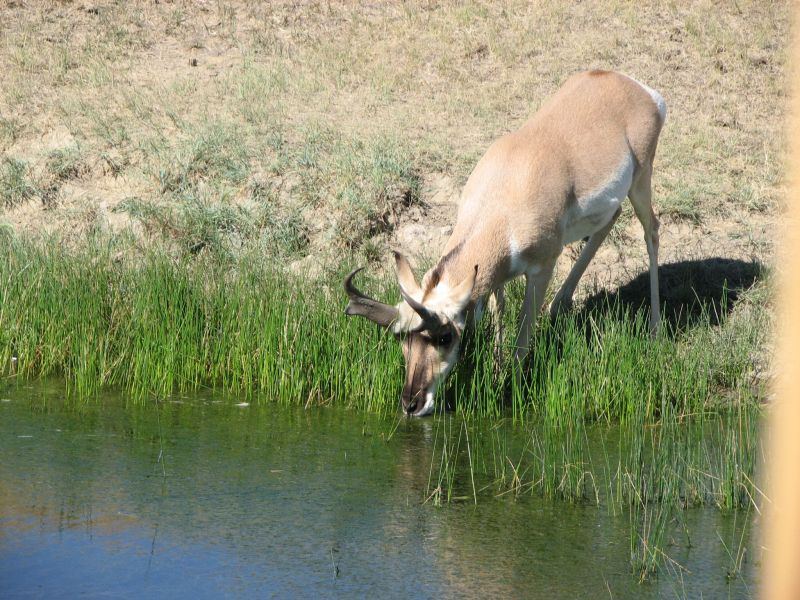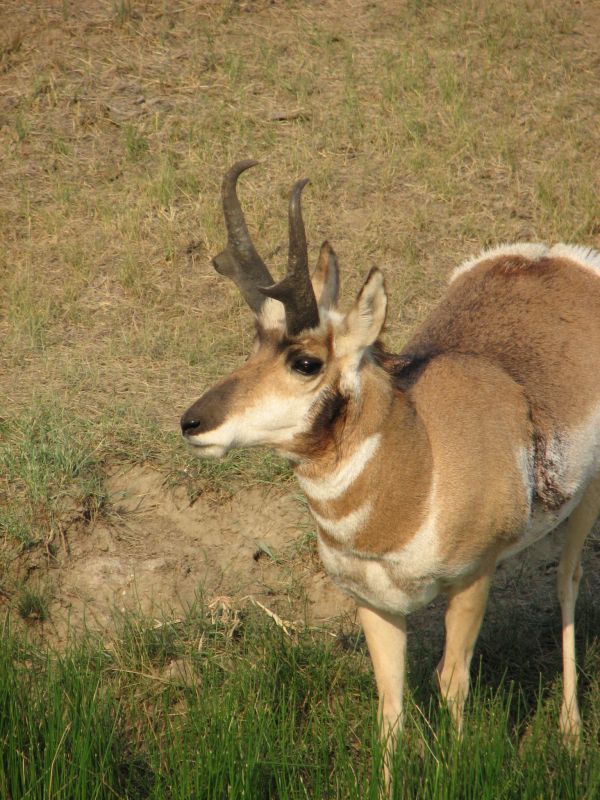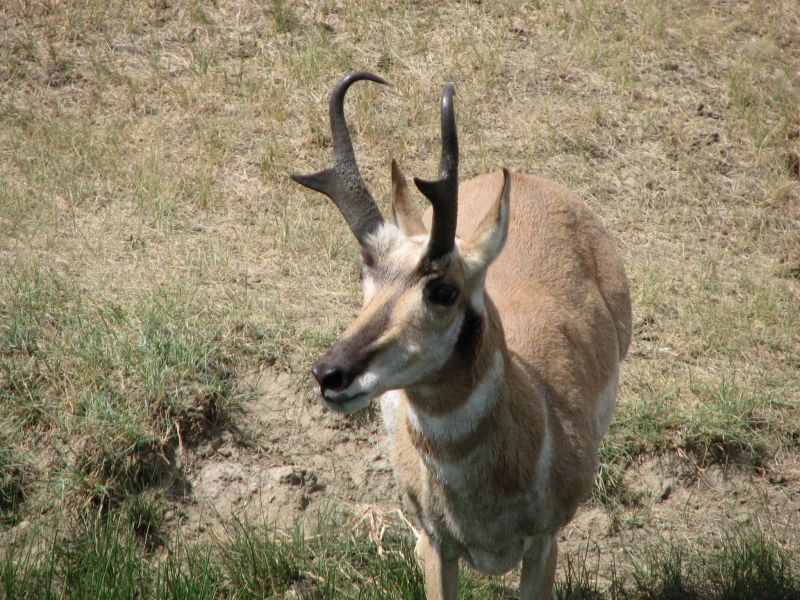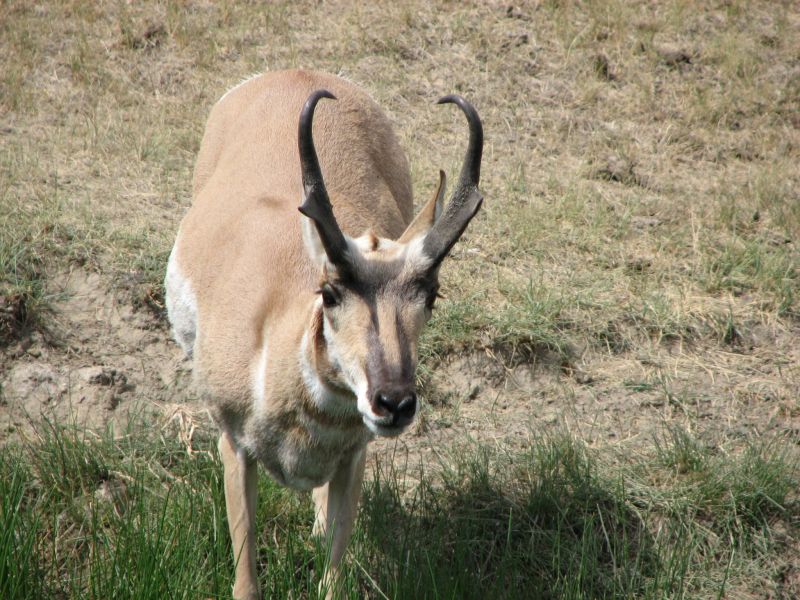 OOOP's...he spotted me...