New forum, so I figured I would post my hunt from 2012.
Dates – June 27 to July 8 (8 hunting days)
Outfitter – Kei River Hunting Safaris owned by Andrew Renton
Booking Agent – Wade Derby of Crosshair Consulting -
http://www.crosshairconsulting.com
Travel Agent – Debbie Trinidad, owner of Custom Travel - debbie@customtrav.agencymail.com
PH's – Martin Neuper, Andrew Renton
Area –Eastern Cape - Komga, SA and surrounding areas
Rifles – Weatherby MarkV Ultralightweight in .257 Wby Mag, Weatherby MarkV Deluxe in .300 Wby Mag.
Ammo – Weatherby factory ammo – .257 110 grain AB and .300 180 grain TSX.
Game Sought – Impala, Blesbok, Warthog, Blue Wildebeest, Gemsbok, Zebra, Common Springbok, Nyala
Game Taken – Impala, Blesbok, Warthog, Blue Wildebeest, Gemsbok, Zebra, Common Springbok, Nyala
Animals Seen –Kudu, Duiker, Waterbuck, Black Wildebeest, Bushbuck, Baboon, Elephant, Giraffe, Reedbuck, Ostrich, Hartebeest, Sable, various birds and reptiles.
Planning - The plan culminated from the hard fact that I would be turning 40. I decided to try a hunt that would make the big day at least something fond to remember, and I was not disappointed. A phone call with Wade Derby almost one year ago, and I was booked for an 8 day plains game hunt on the East Cape. It would be my first trip to Africa, and I can say now that it most likely will not be my last.
Equipment
Standard light hiking clothing, Lowa Ranger boots and a Patagonia softshell. Most importantly, an Akubra Angler for sun protection.
I flew out from JFK on the 27th of June for an 8 day plains game hunt on the Eastern Cape of South Africa; first landing in Johannesburg and making my way to East London, where I was greeted by the owner of Kei River Safaris.
After a ninety minute drive, we made it to the lodge at approximately 8PM and were thoroughly exhausted; quickly eating dinner and drawing-up a preliminary plan as to the next day's schedule. Sleep came and went very easily that night after the long journey.
At 7AM on my first day, I met my PH, Martin. He was an accomplished PH and had an uncanny ability to estimate horn length to a quarter inch from 300 yards away. We proceeded to the range to check the rifles, and the both seemed to be shooting correctly. For this trip, I bought along a .257 Weatherby Ultralightweight and a .300 Weatherby Deluxe.
After a short drive, we came upon a "ranch" where I would be hunting for impala. We spotted and passed on several groups until we came upon a very nice ram. Unfortunately, the wind was against us and he made himself scarce. So we decided to break for lunch and returned later in the day from a different direction.
The plan worked, and I was able to get a shot off at 220 yards that hit high shoulder.
He dropped immediately, but warranted a second shot through the neck to finish him.
The second day, our target was blesbok. We headed over to the same ranch as the day before, since we did see several nice rams in the area. For these animals, glassing is the name of the game. We soon found a nice ram and were able to stalk within 120 yards for the shot. The bullet hit just behind the shoulder and took out both lungs. He ran 25 yards and dropped.
Day 3 had us hunting warthog and nyala.
After striking-out on the nyala, we spotted a warthog boar across a ridge in a cattle pasture. Crawling on hands and knees got us to within 230 yards, and I fired a .257 bullet that went clean thru the shoulders. He dropped on the spot.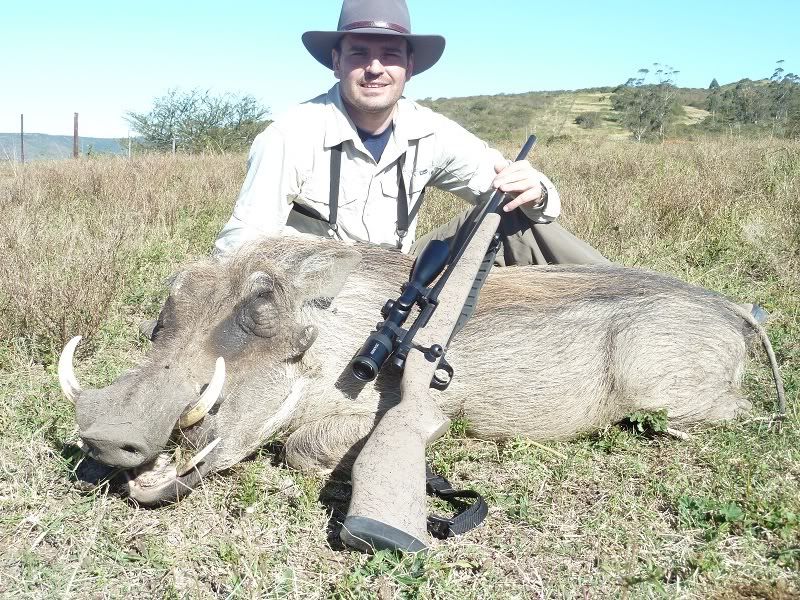 Day 4 was dedicated to Blue Wildebeest.
I have heard all of the stories of this animal's tremendous toughness, so decided to use my .300 Wby for this hunt. We spent some time following around a group that looked promising. A short stalk and then a quick stand-and-shoot resulted in a blue down.
Hit was high shoulder and he didn't take a step.
Nice representative wildebeest.
We spent the rest of the day looking for nyala without success.
Day 5 was devoted to finding nyala.
We went to a different ranch and literally spent the entire day glassing. These animals turned-out to be much more elusive than I thought. We did manage to spot several bulls in the 24-26 in range, but thought it best to hold off.
Day 6 bought us to a ranch that held 3 species on my list. First for the day was zebra. Since it would be a rug, I was looking for a hide that did not have the typical scarring of a big stallion. My PH was able to locate a very clean mare nestled in a small group, and we waited for her to present a clear shot.
And waited, and waited.
She finally wandered a few yards on her own, and this allowed me to take a shot. A stiff 20-30mph wind drifted the .300 bullet over a foot, but it still managed to drop her at 340 yards.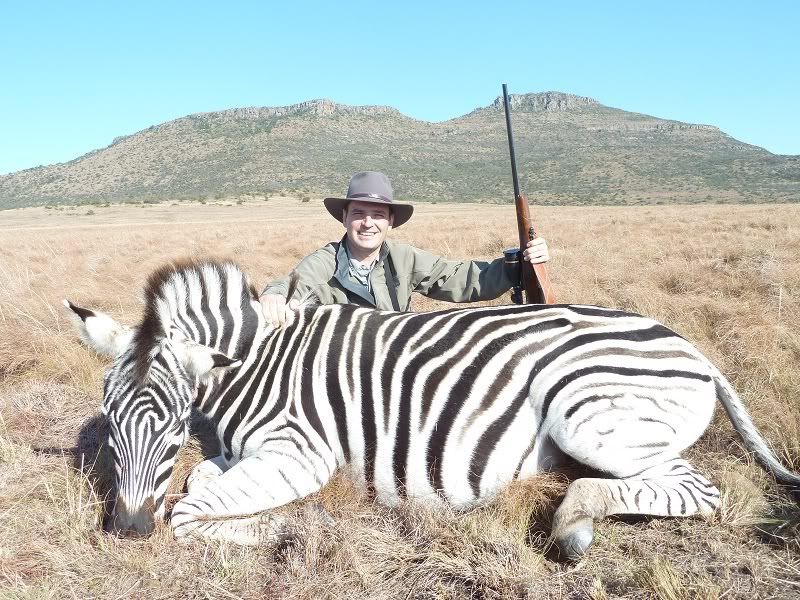 Second animal was gemsbok.
With the strong winds, we knew that they would be huddled down in a protected bowl on the property, and were quickly spotted on a far slope. The only way over to them was to drop into the very bottom of the bowl and push through the brush until in range, which was 160 yards in this case. There were 7 gemsbok in this group, and we spent the next 90 minutes trying to determine which to take. Finally a shot was presented on a good bull, so I sent a .257 bullet over. Onside shoulder was broken, and the bull stood there "drunk" while I reloaded and fired a second shot thru the shoulder, which toppled him over.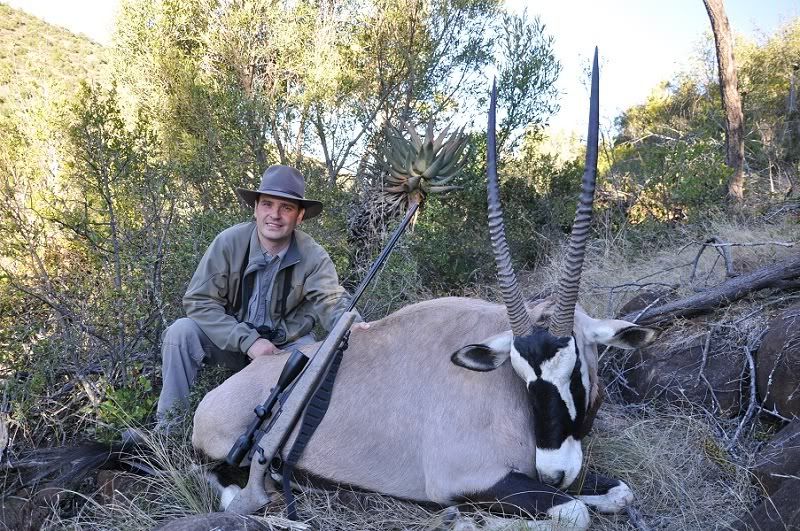 With the sun going down quickly, we were on the hunt for a common springbuck. There were many on this particular property, and while glassing from a hilltop, we spotted a lone ram and began a hurried stalk. We were spotted at approx. 200 yards away, but this ram thought he was well hidden in the brush and did not run as quickly as he should have. Shot was at 225 yards and dropped him immediately.
A very good day with 3 animals down.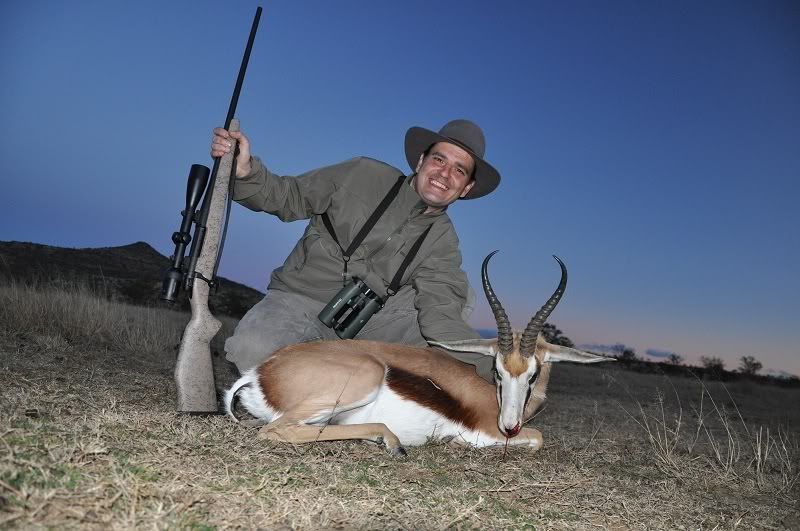 Day 7 had us hunting nyala again, but on a different ranch. In the AM we spotted 2 rams in the 25 inch range, as well as more than just a few +50" kudu. The afternoon had us sitting atop a rocky hill, offering a 360 degree view of the area. We managed to spot a 26 bullet slowly walking along a trail, and this might have been our shooter for the day. A few minutes later appeared a nyala that dwarfed the first in both body size and horn length. How quickly we forgot about the 26 incher.
They both followed the trail and gave me a 328 yard shot with my .257. Both lungs hit and he went down in 20 yards. The bull measured 29.5 inches, by far my best trophy of the trip.
Day 8 had given us some free time. So we took a ride over to Mpongo Game Reserve for game drive.
Absolutely stunning scenery and animals. We were even treated to an elephant bluff charge by a radio collared cow with calves.
Final Thoughts - Since this was my first trip to Africa, I was unsure about what to expect. In terms of facilities and hospitality, Andrew and Sharyn run a first class operation. The lodge was comfortable and homey, without the stuffy feeling that you would get from place of this caliber.
The food was excellent, even for picky Americans; and most importantly, did not make you feel like you were having a food-baby every night. Our hosts made sure that our every need was addressed and I could not ask for more. I will be returning for trophy Kudu, bushbuck and a springbuck or two. What else to say, my girlfriend (who is a non-hunter and a notoriously picky eater) accompanied my on this trip and came afield with us 6 of the 8 days. She is already bugging me to go back so that she could take her first animal and enjoy more biltong.
I finally just received an email telling me that my trophies are being shipped this week, so a few more days until I have the skins and skull mounts. Shoulder mounts are going to Jim Kelly for completion.